Barbarian Swords (CD) - Worms
$

9.00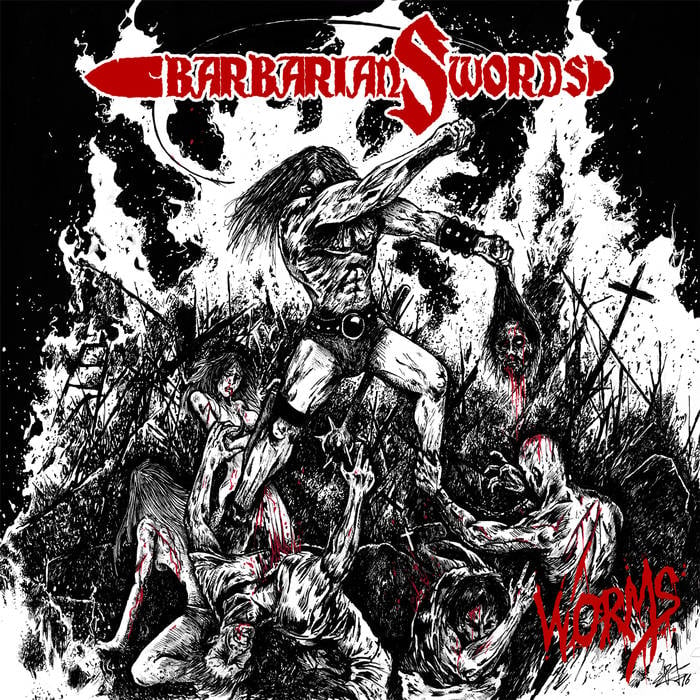 Taken from the label Cimmerian Shade: "Please welcome Barbarian Swords, a very dark, personal and disturbing band from Barcelona, Spain. They have a very unique sound: mixing the various subgenres of Black and Doom Metal in addition to a smattering of Punk and Noise. Barbarian Swords was formed in 2011, and quickly released their first demo, 'Crusaders of the Apocalypse' in 2012, which has been sold out for a while now. In 2014 they released their debut full-length, 'Hunting Rats', which while promoted by Blood Fire Death, received excellent reviews in top journals such as Rock Hard (Germany), Legacy, Metalegion (Portugal) and RockZone (Spain), as well as in a wide variety of specialized websites and fanzines all over the world. Backed by a noisy and sometimes even violent live act, they soon earned the reputation of being one of the most rotten and sickest bands in the Spanish metal scene. This reputation allowed them to be drafted for the Primavera Club Festival, the club-based autumn festival organized by the renowned Primavera Sound, where they shared the stage with Monarch! and Bell Witch.
They have recently finished recording their second album, in which they squirm deeper than ever into a mud of absolute evil and heretic derangement with 71 minutes of pure devilish trance. Their lyrical themes revolve around total war, mass raping, and cruel and vile prosecution of any sign of religion or creed, with the nihilist conviction that the world should go down in flames.
For the recording, mixing and mastering, they have been lucky to count upon an indisputable master such as Javi Félez and his Moontower Studios (Teitanblood, Graveyard, Körgull the Exterminator, Nominon, Ered, Lux Divina, Avulsed, Balmog, Primigenium…), whom already did a flawless job with their debut album. The cover and layout have been designed by César Valladares (Krisiun, Asphyx, Grave Miasma, Under the Church, Balmog, Graveyard…), whose work completely captures the blind hatred that emanates from their sound.
The band have just secured an appearances at the Inner Metal Fest and Catalonia Extreme Winter Festival next January.
Their upcoming full-length 'Worms' leaves no doubt that there is not a single trace of positive feelings or thoughts in Barbarian Swords."